Remodeling Contractor Serving San Angelo, Texas
David Nowlin, founder and owner of Climate Right Construction, has more than 30 years of experience in the construction industry. His expertise spans a wide range of renovation and remodeling projects – from outdoor kitchens to window replacement to custom cabinetry. As a General Contractor with Texas roots and a dedication to serving the citizens of San Angelo, he strives to provide customers with the peace of mind that comes from decades of experience and a respected reputation founded upon trust and built upon satisfied results.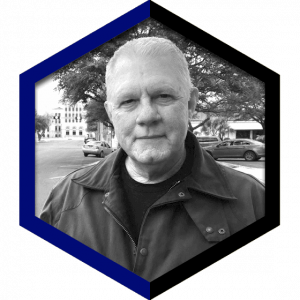 David Nowlin
David Nowlin is the owner of the Climate Right Construction Remodeling Alliance: CRC Painting, CRC Kitchen & Bath, CRC Window Pro, CRC Walls & Rooms, CRC Rooms & Roofs, and CRC Remodel Pro. He grew up in the construction industry, working for his father and uncle, before starting his own construction company in 1984. As a successful contractor, he oversaw thousands of remodeling, new construction and commercial projects spanning most major cities across Texas.
After choosing San Angelo, Texas as his home in 2005, he started an insulated window company which quickly grew into a full-service remodeling business built upon a strong base of repeat customers and referral business. Naturally, this evolved into residential and commercial roofing services for his growing list of satisfied customers.
Over the years, Nowlin learned that it is imperative for contractors to understand city building codes and the permit process. He has years of experience serving on the San Angelo City Planning Commission and as Chairman of the San Angelo Zoning Board of Adjustments. He is also a licensed Texas real estate agent, giving him insight into property values and evolving real estate market trends.
As a concerned citizen and public servant, Nowlin seeks opportunities to make San Angelo the best city he can—whether that is through community involvement, volunteer roles or at the helm of Climate Right Construction.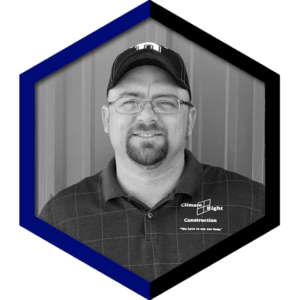 Bruce Nunemaker
Bruce Nunemaker joined the Climate Right Construction team more than a decade ago and fast-tracked into a team lead position. From there, he continually earned greater levels of responsibility and respect as he proved his ability to mentor those new to the company while maintaining a continual focus on timely project delivery and customer satisfaction.
Now, Bruce serves in the role of Operations Director where he leads multiple contractors and sales professionals, coordinating numerous concurrent construction jobs across San Angelo and the surrounding communities. He has the distinct advantage of being a hands-on contractor prior to moving into his current role, giving him greater insight into every project he oversees.
Bruce leads by listening – to customers and contractors. He knows that the remodeling process is collaborative and encourages communication throughout every phase of the process.
In many ways, Bruce has become the face of Climate Right Construction as he moves about the community, interfacing with hundreds of customers, and working tirelessly to uphold the integrity and standards of excellence which have become integral to the operations of Climate Right Construction. We're thankful to have Bruce Nunemaker as a Co-Captain of the Climate Right Team.
Considerations When Hiring a Home Remodeling Contractor
Our company is fully licensed and insured to deliver reliable, quality design services. As professionals, we recommend you learn more about the contractors you will be working with. Contact us with any questions or concerns you have about your home remodeling project. We will give you a free estimate on renovations anywhere in your home.
Licenses – Check to ensure that the contractor you choose is licensed with the local city or county licensing board. Climate Right Construction is fully licensed in the City of San Angelo.
Insurance – Ask the contractor about insurance status. Climate Right Construction is self-insured and complies with all regulations to work in your home.
References – Get at least three references from your contractor and contact them. To read Climate Right Construction reviews, visit Client Reviews.
BBB – Check with the Better Business Bureau. Climate Right Construction has an A+ rating from the San Angelo Better Business Bureau.
Estimates – Request a written estimate from the contractor.  Climate Right Construction provides free written estimates for your convenience.
Upfront Payments – If a contractor requires upfront payment on anything other than custom made-to-order items, be wary. Some contractors demand down payments before the project is started. There should be no reason to pay for work that has not started. Climate Right Construction does not collect payment until the job is under way. The final payment is due when the project is completed.
Licenses & Credentials
Licenses
Licensed Contractor #2040
Texas Real Estate Professional License #0554235
Insured
Memberships
Chamber of Commerce
Better Business Bureau
Home Builders Association